In 2022, smart homes are more popular than ever. Homes across the globe are switching to a more internet-connected future.

In fact, according to a recent YouGov survey, at least 8% of UK homes now own at least two smart home products. Sure, that might not seem like a big deal, but it's actually a staggering 1.9 million properties!
Jump To
So what's all the fuss about? Well, in a lot of cases, smart automation simply makes the difference between a bland, boring property and one that excites - but there's a great deal more to it than that. And if you've ever stepped foot into a fully automated home, you'll understand why.
This article will offer a 101 guide to the basics of smart home tech, looking at what the term means, how this technology works, and the things you need to consider before making the switch to smart.
What is Smart Home Technology?
Smart home technology is a network of intelligent home devices designed to automate the things homeowners use every day. Relying only on Wi-Fi, this automation boosts energy efficiency, security, comfort and style, all from a single device.
So what does this technology actually control? The truth is, there's no real limit to what can be defined as a "smart home" device. Any home appliance that automates can technically be labelled "smart". Be that off-the-shelf Phillips Hue light bulbs or unique, custom automatic coffee brewing machines. The beauty of home automation design is that it can be entirely styled to your needs, preferences and budget.
In fact, this tech might be more familiar than you'd at first think. Amazon Echo, Google Home, Siri. It's really no coincidence that these virtual home assistants have boomed alongside the smart home trend. They offer an (incredibly) entry-level glimpse into home tech. Not to mention, they're also compatible with nearly every smart device. Alexa, turn on the lights!
But of course, if you're looking for a real smart home, you'll want to hear about the more advanced stuff. When we speak about this tech now, we're talking about the systems that automate your life with endless convenience.
What is Smart Home Integration?
Using preferences and routine analytics, smart devices control your entire home with the click of a button. And sometimes even less. No more twiddling with light switches and no waste on efficiency.
And the real fun begins with integration. Expertly installed automation systems are designed to work with each other to promote security and convenience in the home.
Using custom preferences and rules, users can automate certain elements of their home based on a specific trigger. Let's say you wanted to have your blinds drop at the same time your lights switch on. Or have your driveway lights turn on when the front gate opens. With integration, it's usually a case of how rather than if.
How Does Smart Home Technology Work?
A smart home shouldn't be seen as a collection of isolated smart devices, but instead a network of technology inside your home. And with this in mind, every property needs some form of central control device to work.
Often called a 'smart home hub', this is a device or software that acts as the central point in the network. It lets the user set preferences, schedules and take full control of their smart devices in their home.
There are endless ways to control your devices in 2022, with control functions being adopted by the latest Apple Watches and voice commands Smart Speakers. Find out How to Control your Home with Smart Home Voice Commands. But, typically, there are two common types of control systems: centralised hubs and remote control smartphone apps. You'll find properties that use both, and some that use one independently.
Centralised Control Hubs
Central control systems like Control4 are the closest thing we have to the ultra-futuristic living spaces seen in Sci-Fi movies. Using a wall-mounted panel, these systems give the user complete control from a single touchscreen.
This tabletop technology essentially removes the need for the endless amount of remote controls and apps that come with some systems. They deliver an always-on, dedicated control over the tech, resulting in a slick, user-friendly way to change your home's settings.
Smartphone Control
App-based control is a great choice if you're chasing endless on-the-go control of your home. Using an installed app available on IOS and Android, users are able to take remote control of their home from anywhere.
As long as your smart devices are connected to the internet, you'll be able to switch them off in a rush out of the door, or turn them back on in time for your return. All from the touch of a button.
But of course, these apps are an included part of the package offered by suppliers like Control4, so you'll be able to make the most of the remote app features whether you choose a wall mounted interface or not.
Intelligent Automation
So how does smart technology know when to automate? Good question. Most high quality smart home devices feature pre-installed AI machine learning. This monitors your usage habits and replicate these across the day.
And that's not all. Through Wi-Fi network, intelligent smart systems can also automate based on time of day, lighting levels, temperature and other factors that require their use.
Take Lutron's battery venetian blinds for example. These systems use ingrained shading software to adjust the blinds in response to the changing position of the sun. This means you don't have to keep fiddling with controls to reduce glare and protect flooring, fabric and furniture.
What are the Benefits of a Smart Home?
The main purpose of automated technology is to make the everyday more convenient. As a result there are a number of key benefits that come with installing this tech.
For one, smart technology's ability to pick up on usage patterns makes them a greener alternative for homeowners looking to reduce their carbon footprint.
Smart heating, lighting and blind systems are designed to closely monitor temperatures and daylight to bring down power use across the home when it's not needed. Users also benefit from greater insight into their overall energy usage with detailed analytics.
Some smart technologies like Lutron's smart lights even include motion sensors and occupancy detection software. These are able to identify if the room is being used and reduce energy consumption on a room-by-room basis, and not needlessly powering itself while you're away.
Not to mention, with remote app-based control, you can entirely power down all of your smart home systems from just the tap of a button. This is known as an 'All-Off' switch, which can be used remotely and on-the-go. They're great if you're known for leaving lights and heating on in a rush. Or even for powering down your entire home from the comfort of your bed.
This has an important effect on the security of your home. Since smart CCTV cameras, smart locks, alarm systems and motion detectors are connected to a portable device, users get real-time alerts and updates for issues on their property.
With CCTV integration, suspicious activity will be instantly flagged on your device. This gives you a direct visual on what's happening on the ground. This feature puts users on the front foot against criminal activity and antisocial behaviour, meaning they can contact the police before rather than after the fact.
Some smart technology packages like those offered by Control4 can even boost a home's security by occupancy simulation - or 'Mockupancy'. By constantly monitoring lighting, this feature copies the typical day-to-day behaviours across the home, making it look like someone is inside and actively moving throughout the house.
Is Smart Home Technology Safe?
One of the biggest roadblocks for smart home devices is security. Broadly speaking, smart devices are indeed hackable - just like any router, laptop or smartphone. But that doesn't naturally mean they should be avoided.
A major plus for leading smart home technologies is that they can b updated entirely remotely, without the need for expensive maintenance call-outs or technicians. This means that your smart tech is constantly up-to-date with daily patches to make them less vulnerable to nasty breaches.
But of course, if your smart home is running off a slow, weak or outdated Wi-Fi system, automatic updates won't be enough to keep you totally cybersafe on their own.
All smart tech relies on your network connection to work. It's worth thinking of your router as the "front door" to your smart home. Without a strong network system pulling the strings, it'll be easy for cybercriminals to tap into the devices on your server. From your smart door locks to your CCTV.
That's why we always advise using a smart meshed network system like Ruckus Wireless. Using WatchGuard AP technology, this Wi-Fi set-up boasts powerful end-to-end encryption, automated firmware patching and antivirus defence. Not to mention, super fast, high quality network. And don't forget the basics. Use a strong password and only give access permissions to those you can trust. Not knowing who is remotely accessing your home technology can cause all sorts of headaches. Remember the basics and make sure you're not that person!
Considerations
By 2023, the amount of smart homes in the UK is expected to have doubled. If you're looking to stay one step ahead of the pack (and not fall behind), now is the time to switch to smart.
Smart home techn is only continuing to develop and expand. Setting up the basics within your home will create endless uses for the right now, whilst also offering a foundation to add to in the future if you so wish.
It's never worth settling for the cheap stuff either. By now, if you're set on transforming your house into a smart home, you would've already seen the wide range of DIY, Plug-in smart solutions available off the shelf. Think smart thermostats and smart plugs. Take these with a pinch of salt. They're simply no match for a fully integrated, professionally installed smart home system.
Using a trusted installer will ensure that your smart devices are completely secure. Both from a physical and data security point of view. A confident installer will understand how to personalise your smart home devices and features to suit your needs. They can design a system that boosts your home security in addition to increasing home comforts.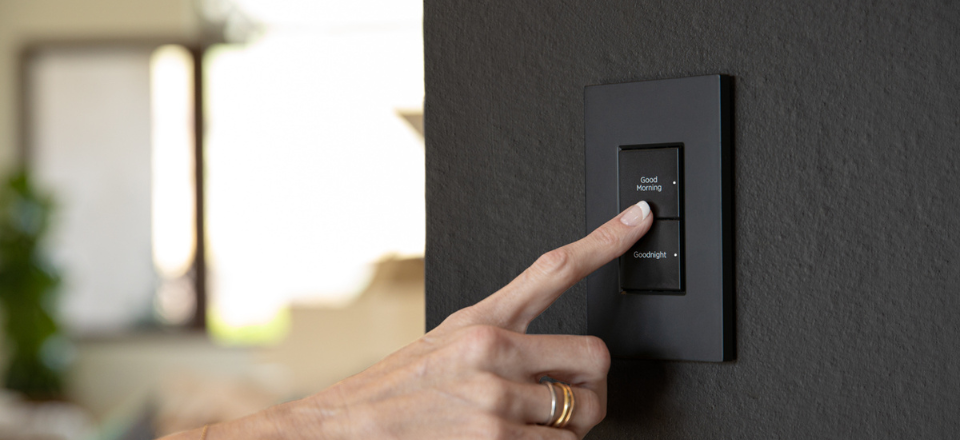 Final Thoughts
The next step is finding the right systems for you. Sure you could begin by purchasing an Apple HomeKit or Control4 system. But as we've mentioned, a smart home really isn't a smart home if it's not a network of multiple devices. The key here is connecting multiple systems into one.
That's not to say you'll need everything from smart heating to automatic blinds. The key to smart techn is keeping it personalised to you. Whether you want automated coffee brewing or something quirky like an automatic dog washer (yes we really did that), make sure it actively makes a difference to your home lifestyle.
At Chris Lewis Group, we're here to support you in all of your smart home ventures. With over 10+ years in industry installations, we're early movers in the smart home field, and our technicians are dedicated to helping you bring your home goals to life. Whether you're looking to increase your security by introducing smart tech, or improve overall well-being in your home, we have the skills, experience and desire to bring your vision to reality.
Get in touch with us today to see what we can do for you.
Get in touch with our design experts today:
Submit the below form and we will get back to you very shortly.
I design, specify and support clients during new installations, system upgrades and ongoing support of their Smart Technology – even if we were not part of the original commissioning. My background is high-end Hi-fi systems but due to the bespoke multi-discipline offerings from our partners, suppliers and manufacturers, I pride myself on a personal and practical service that turns complex systems into simple recommended solutions.
With summer on the horizon it's time to evolve your garden into the perfect amusement stage for you and guests to enjoy through 2023.
The global smart home market is predicted to reach over £430 billion in value by 2030. With architects and homeowners alike turning to smarter solutions, the smart tech takeover is essentially.
Smart home technology has skyrocketed in recent years. With the rise of off-the-shelf devices like Amazon Alexa and Philips Hue more people than ever are introducing smart features into their homes..