Security systems have come a long way since the days of black and white cameras and titanic racks. In those days, video was used mainly as a reactive measure; reviewing footage only after an incident had already happened.
As technology evolves, so does our security system's potential, and no security measure captures this more than Ai Powered Cloud CCTV.
Jump To
How can Cloud CCTV Benefit Me?




1. Improved Security




2. Constant, Real-Time Access




3. Remote Maintenance




4. Better Storage & Additional Backup




5. Cost-Effective Value
Cloud-based CCTV lets you see what's happening on-site. 24/7, around the clock. It gives push alerts for strange activities and allowing you to search your CCTV archive in seconds for incidents.
It can be easy to overlook the importance of video surveillance in your security strategy. While settling for an older system may offer a cheaper solution in the short-term, it's never worth putting your hard-earned assets at risk with third-rate technology.
In fact, up to 80% of CCTV footage seized by police is of such poor quality that it's worthless in criminal trials. In a nutshell, ensuring your CCTV is up to date should be crucial to your business' protection.
Alarmed? Don't be. This blog will be your 101 guide to installing cloud CCTV into your business operations, and the advantages it can have for your business. We'll review the various practical benefits and address the most critical considerations for single or multi site businesses.
What is Cloud CCTV?
Cloud CCTV is simply when CCTV Footage is stored and managed in a cloud environment rather than the traditional way of an on-premise server or recording device. More and more companies across the planet are getting rid of on-premise servers and switching to the cloud, and for good reason.
But what do we mean by the term 'cloud'? And how does this apply to our CCTV cameras?
The cloud in this context, refers to a remote server where the CCTV footage is uploaded to as a constant data resource. Data Centres, where the footage is held, are ultra-secure, ultra-powerful, scalable environments that enable us to have almost limitless processing power and storage for our CCTV system.
In fact, the cloud is likely already a conscious part of your day-to-day. Think: Netflix, Office 365, Spotify; these all use a cloud server to enhance user experience and storage management. Digital cloud storage simply makes life easier, reducing the age-old worry of data loss and external hard drive corruption. It automatically patches and updates the user interface, it scales easily and cheaply as there is no hardware to replace or upgrade.
So, how does cloud CCTV actually work? There are 3 ways in which we can utilise the power of the cloud for our CCTV system. We have a video to explain these here and also written below:
Example 1 - Direct to Cloud
This is where you have a cloud security camera that is set up to stream footage directly to a provisioned server in a cloud environment. This can use a huge amount of your internet bandwidth and usually requires you to open up ports on your network. Also, if your internet connection fails then the cameras will not be able to record to the cloud portal. These solutions are best place across multiple sites.
Example 2 - Hybrid Cloud
This is where you have specific security cameras with built-in storage. The camera records to the built-in hard drive when there are events. This means you only stream footage and take up bandwidth when you are reviewing events on the CCTV system. If the internet connection is interrupted you still have footage available as the cameras store their own images internally.
Example 3 - Cloud Connectors
For cloud connectors you can use practically any security camera that connects on your network locally. This device then efficiently processes the images and uploads them to the cloud portal, storing them locally on the hard drive. If the internet connection is interrupted you still have CCTV footage. This solution offers an excellent upgrade path for businesses looking to move to the cloud. But, you still have that single point of failure if the cloud connector were to fail, and you are limited to hardware of the cloud connector so to scale or upgrade the system past a certain point could be costly.
What can Cloud CCTV do for Me?
In the past, large-scale CCTV systems required on-site footage servers to store files. These are large, external storage devices known as a DVR (Digital Video Recorder) or a NVR (Network Video Recorder). They're typically expensive to repair or replace and provide a single point of failure for your whole security system.
Whether purchased first-hand or leased, cloud CCTV can elevate your protection, offering complete control over your premises around the clock. So what are the benefits and what can CCTV do for your company?
Improved Security
Cloud cameras are designed with cutting-edge security technology, allowing newer systems to keep first-rate level of quality. This is poles apart from the DIY systems offered on the market.
Technology is constantly improving and with a traditional CCTV system, once you've purchased it that's it. With Cloud CCTV your system is always updating, providing you with the latest and greatest features as they're released.
Cloud CCTV is designed to be intelligent and notify you of any suspicious activity in real time so that you can do something about it rather than just reviewing the footage after the event.
Despite what you may have heard, cloud video surveillance systems offer a greater protection against cyber security breaches than your typical NVR or DVR.
With remote firmware updating and maintenance, leading brands like Verkada are able to tackle new cyber security threats as they happen. This assures that your protection is always at peak performance and up to date.
In addition to this, most Cloud CCTV systems fight the hacker-threat with simple account access control. Cloud based IP cameras offer end-to-end encryption, using Two-Factor login to defend your dashboard from prying eyes.
Using Cloud technology means that you don't need to set up complicated VPN's or open firewalls that leave your network vulnerable. In the circumstance where your video storage is breached, cloud surveillance systems are designed to provide rapid alerts, offering a full audit trail on all access events that can't be removed or edited. This means users can pinpoint activity and shutdown potential threats quickly.
Constant, Real-Time Access
By nature, cloud CCTV surveillance is extremely easy. With a connected smartphone app, it's easy to monitor your premises from almost anywhere. This provides on-the-go protection without manual check-in.
Users have access to 24/7 live feeds of their workplace around the clock, offering always-on reassurance in real-time. There are huge advantages to reap because of this.
Typically, businesses use CCTV in a reactive way; delving into the recorded footage archive once an incident has already occurred.
The Real-time access offered through cloud CCTV enables you to take a more proactive approach to monitoring your premises, potentially eliminating that security breach entirely.
Proactive video monitoring takes action before a threat materialises, visually assessing activity within your perimeter and sending an alert to your device within seconds of detection.
Using this technology, security threats are autonomously controlled and unauthorised activity is intervened - allowing you to fortify your business outside of your working hours.
Remote Maintenance
Professional maintenance is essential to the effectiveness of any corporate security solution. New security threats emerge on a daily basis and this is largely considered to be one of the most notorious drawbacks in the traditional NVR/DVR CCTV system model.
Put simply, security affects every inch of your business - from top-level HR to your customers, and for that reason, it's never worth compromising your business' security with outdated technology.
Through cloud surveillance, you'll be able to keep on top of security trends, accessing easier maintenance and repairs without human intervention.
Remote CCTV maintenance means your system is constantly improving with the latest features, which not only enhances the practicality of your surveillance, it also empowers it in the battle against cyber criminals and hackers. Cameras and software in cloud-based networks like Verkada are constantly patched to remove vulnerabilities and modernise your protection automatically, nullifying those emergent threats remotely with less than the click of a button.
With traditional legacy systems, troubleshooting an issue can be a testing and vastly inaccessible experience - in some cases, businesses aren't even aware of an issue with their surveillance until long after their premises have already been breached, rendering the evidence entirely useless.
Through live health monitoring, 24/7 firmware patching and remote maintenance functionality, ensuring your cloud CCTV is at peak performance has never been easier, making the days of depending on on-site technicians and maintenance visits a thing of the past. The system can notify you proactively if a camera is tampered with or is disconnected from the system so you haven't got that horrible situation where something actually happens and the camera covering the incident wasn't working.
Using API integration with third party systems, cloud CCTV devices make identifying response issues and raising service requests far more streamlined than the traditional offerings on the market.
For example, cloud CCTV systems can integrate with facilities management platforms like PagerDuty and communication platforms like Slack to automatically send service requests and notifications for the supplier to seamlessly resolve faults.
Better Storage & Additional Backup
Through the use of cloud CCTV measures, businesses can revoke some of the traditional vulnerabilities associated with legacy storage systems.
The physical nature of external hard drives is undoubtedly the achilles heel of the traditional surveillance system. If damaged or they generate a fault, your data can be entirely jeopardised without any notable backup - and often, criminals are aware of this.
If your premises are at high-risk of burglary, cloud CCTV storage is an invaluable addition to your protection, and one you can't afford to overlook. There are a spate of high-profile cases of burglars damaging CCTV servers in large, corporate buildings and this is only becoming more prevalent.
By automatically saving footage to the cloud, substantial evidence is maintained, regardless of damage or theft - providing a constant resource to support damage claims and criminal proceedings if they do arise.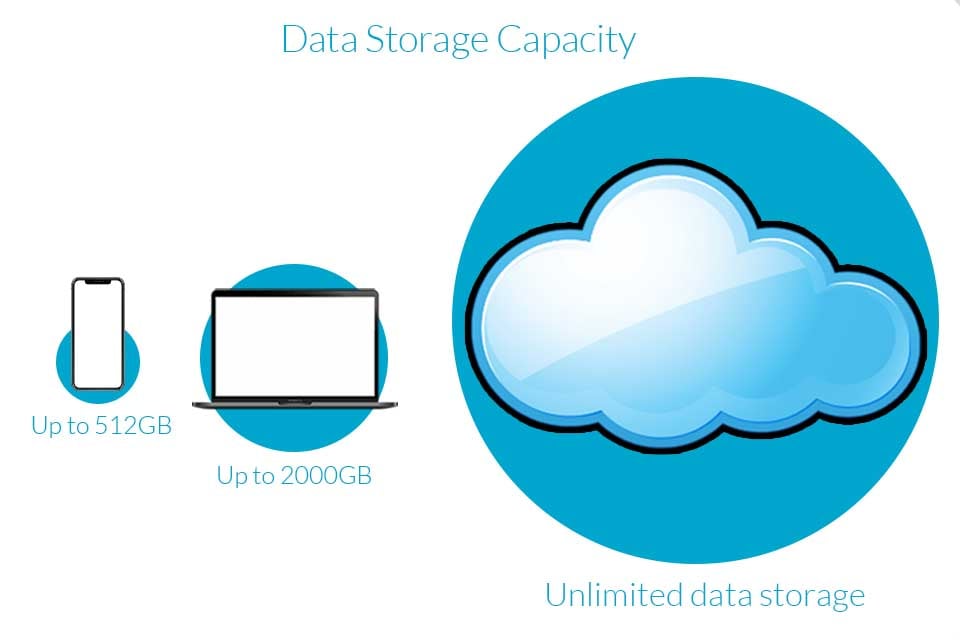 External storage systems also have the additional drawback of having limited storage, resulting in the frustrations of overwritten data and the need to replace/reset the hard drive every few months.
Cloud storage allows you to elevate your security database, giving you far more data at a competitive value, unrestricting your storage limitations and maintaining a constant data resource.
Not to mention, cloud CCTV extends the possibility for archiving footage and events, meaning that if your system does go down, you can rest assured that crucial data will survive.
Cost-Effective Value
While upfront costs for a cloud CCTV systems can, in some cases be more expensive, making the switch can actually provide a cost-effective solution for commercial security in the long-term. Not only can installing a cloud CCTV system save you the glaring upfront expenditure involved in purchasing a legacy CCTV server or NVR, there's also a spate of potential savings associated with an upgrade.
Older mechanical parts are gradually being phased out - making the maintenance and repair of legacy CCTV systems both expensive and often, totally inaccessible. Not to mention, the increasing time spent sourcing those gold-dust components.
Through a cloud-based solution, you'll have access to the very latest in CCTV technology, automatically updating and maintaining itself without human intervention or the need to make costly hardware upgrades. With remote access, you'll save time on the need for an on-site CCTV audit and money on the cost of a technician call out, improving security efficiency and ensuring your protection is up to date, without breaking the bank.
Considerations
Making the switch to Cloud CCTV may seem daunting, but it doesn't have to be.
There are a number of varied offerings in the Cloud CCTV marketplace, and choosing the right system for your enterprise can be challenging.
At Chris Lewis Group, we primarily work with the latest cloud-based technology from industry-leading manufacturer Verkada but we listen to your needs first to ascertain whether it's the right fit for your organisation and challenge.
Verkada offers limitless surveillance performance with high quality, on-demand accessibility and full, rounded protection. But, If you're happy with your current legacy system and want to make the switch to cloud storage, a cloud connector is the solution for you.
Cloud connectors integrate a cloud storage measure into your traditional surveillance offering. For specialist cameras, you just need to add one alongside your existing NVR and upload footage straight to the cloud.
Looking to discover more about the CCTV options available to you? Get the lowdown: Everything you Need to Know about CCTV Systems.
Final Thoughts
With businesses across the globe quickly advancing towards more digitally-enhanced security strategies, cloud CCTV should be seen as a standard for complete, concise and efficient protection. Older legacy systems are quickly becoming outdated, and with this decline come a number of glaring security risks that could leave your business vulnerable.
Don't get caught out with ageing storage options. Criminals are getting smarter by the day and the rising cyber-security threats put your assets at risk like never before. With increased security, easy access and 24/7 remote monitoring, it's no wonder the future of CCTV is in the cloud - Is it time for your business to bridge the gap?
Our team is fully trained in the latest cloud-based technology, and perfectly aligned to support the maintenance, upgrade, extension and rejuvenation of your CCTV system.
---
Discuss your Cloud CCTV requirements with one of our experts.
Complete the contact form below and we will get back to you very shortly
I run our sales, technical design and marketing initiatives for the business. I work closely with manufacturers and trade associations to keep abreast with the latest technology and regulations making sure our clients are getting the very best and latest systems available.
There are an estimated 5.2 million CCTV cameras watching over the UK. Today, video surveillance has never been more important. Its use is helping businesses and homeowners across the country to keep.
Over the past few years, working habits have drastically changed. Hybrid working in the UK has already seriously risen this year, from 13% in February to 24% in May.
Smart tech is quickly changing the way we work and live inside our buildings. The 2019 Energy Efficiency Indicator study revealed 64% of companies plan to increase investment in smart building.